Services
Services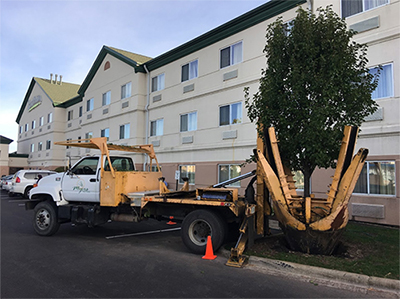 Evergreens, Shade Trees & Ornamental Sales
Myers Tree Farm Inc. grows and supplies a variety of shade, evergreen and ornamental trees, along with a variety of balled and burlap flowing shrubs.
---
Hardscape Design
Natural Stone Aprons
Stone/Brick Veneering
Outdoor Living Spaces
Natural Field Stone Walls
Existing Paver/Wall Repair
Retaining Walls
Paverwalks & Patios
---
Excavation
We provide light excavation services that include stump removal, land grading, and foundation excavation and preparation
Drainage Solutions
Asphalt Installation and Repairs
Property Expansion
Brush Hogging
Land/Lot Clearing
Gravel / Millings Driveway Install and Repairs
Grading Services/Turf Installation
---
Harvest/Relocating
Myers Tree Farm Inc. tree spading service has the ability of relocating and harvesting large trees.
Most people think of trees as immovable, and for very large trees this can be true. There are situations, however, when it is not only possible but highly desirable to relocate a tree. Perhaps you are doing construction, and you would rather not destroy a stately tree. You may discover that a particular tree is ill-equipped to survive in its current location.
In order to understand tree relocation, it is important to understand the basic physiology of a tree. Most trees survive by utilizing a nutrient gathering system that includes, but is not limited to, their foliage and their roots. Just as trees need their leaves in order to "breathe" in carbon dioxide, they also need their roots in order to absorb the necessary amount of water and nutrients from the ground.
One of the major difficulties involved in a tree relocation project is ensuring that enough of the "root ball" is being extricated in the extraction process. There are a variety of different formulations used for determining how much of the root ball needs to be preserved, most of which take into account the type of tree being relocated, the age, the trunk width, and the relative health of the tree.
Nursery Digging Myers Tree Farm provides digging services up to 65", where a crew will arrive onsite and dig the selected trees along with ball and burlap. (Service includes wire basket and burlap) *Please call for pricing.
---
Harvest Trees
Myers Tree Farm provides harvest services ", where a crew will arrives onsite and digs the selected trees. (Service includes wire basket and burlap) *Please call for pricing.
---
Tree Removal/Stump Grinding
Myers Tree Farm Inc. provides tree removal and stump grinding services. Many times we are able to remove large tree including the complete root ball making it possible to replant in the same location if desired.
---
Field Mowing/Lot Clearing
Myers Tree Farm offers field mowing and lot clearing. Whether its new construction or overgrown lots our skilled employees are able to navigate through some of the most difficult properties in need.
---
Mulch/Firewood
Myers Tree Farm Inc. offers Chocolate premium mulch for sale. All natural timber material, no recycled pallet material. This ensures constant size and color throughout our mulch.
Myers Tree Farm Inc. also sells and delivers seasoned firewood. Quality hardwoods including Ash, Oak & Hickory, great for family and friend get-togethers for bonfires or heating your home. Deliveries offered year round. All deliveries include material to be stacked upon delivery.
---
Ball and Burlap Services
Myers Tree Farm Inc. provides B&B services up 40" for other nurseries and municipality. A crew will come to your location and dig onsite. Myers will provide all baskets and burlap needed. Please call for pricing.